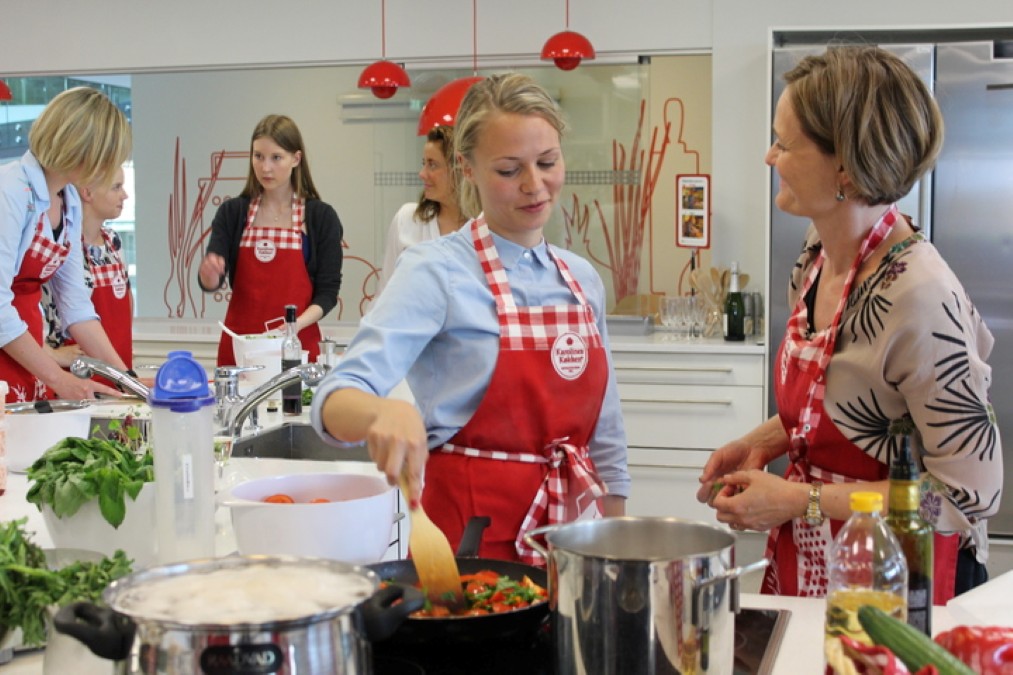 At this year's Aarhus Symposium, Arla offered 110 selected students the chance to participate in four different workshops run by Arla representatives under the umbrella theme of "Embracing the future of Arla". The chosen students joined one of four Arla workshops in the fields of Business Development, Human Resources, Finance, and Marketing & Innovation, and got truly inspired by Hanne Søndergaard presenting Arla's take on "Leading through Change".
Providing students a behind-the-scene glimpse of Arla
Out of all workshop participants, eight students were selected to participate in Dinner with Arla taking place in Karoline's Køkken on May 24th. These handpicked students had the pleasure of cooking and mingling at Karoline's Køkken together with four Arla colleagues representing each workshop function. While preparing a three course-meal in the kitchen, they had the opportunity to explore Arla from inside, network with experienced Arla representatives and find out about possible career opportunities. "The cooking event was a great networking and employer branding opportunity while displaying our collaborative culture here at Arla", Employer Branding Coordinator Diana Kirk explains.
Finance Manager Michael Regner who was facilitating the finance workshop at Aarhus Symposium and participated in the cooking session, shares his reflections on the events: "The cooking event at Karoline's Køkken with the winners of the "Embracing the Future with Arla" workshops at Aarhus Symposium was not only great fun, but also gave the participants behind-the-scene glimpse of Arla. I very much enjoyed the informal exchange with bright students from various backgrounds."