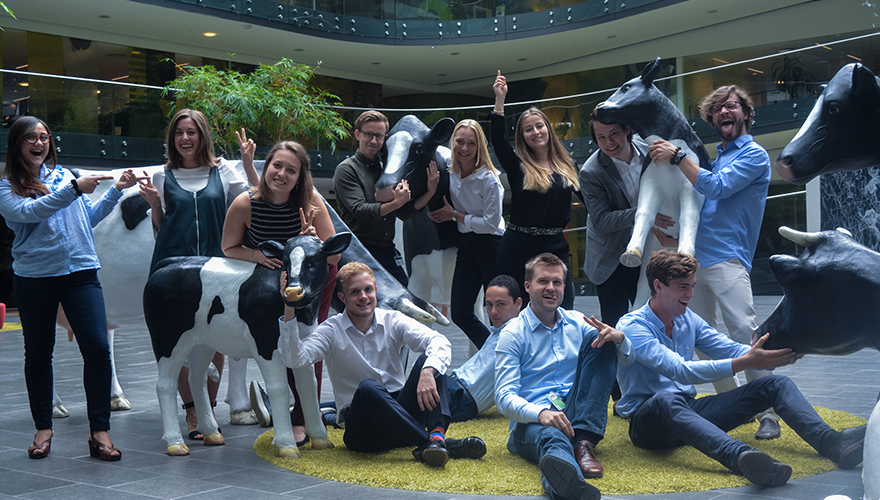 Attracting more millennials to the future of dairy
This year, Arla's Summer Internship Programme has slightly changed format. While working in different departments across the business three days a week, the interns have concurrently been working on 3 innovation projects 2 days a week sponsored and supported by senior innovation leaders within Arla. The aim of the innovation projects is to research and elaborate on new concepts, which could potentially attract more millennials to the future of dairy.

As a result of the interns' hard work and dedication during the summer, they presented both creative and bold ideas. One of the groups, for example, daringly encouraged:
"Don't be a cow-ard. Join the moo-vement" as they presented new, disruptive perspectives to the future of dairy, and with these words invited the audience to think out of the box.
Thought provoking content captured the audience

Among the audience was Senior Director and Head of Global Rewards, Jacob Borgholm, who proudly expressed his impression of the interns' innovation projects on LinkedIn subsequently: "Very inspiring to see – also thought provoking. Proud to be in a company that opens up for this kind of inspiration and listens to the ideas fostered by the talented students".

And he is not the only one impressed with the talented young people. Kåre Berenthz-Nicolaisen, Head of Digital in Arla, and project sponsor for the summer interns, states that he is really impressed with what the interns have achieved in such a short time and further notes: "These young people choose to spend their summer holiday working to develop their competencies, which I think is a strong indicator of ambition." To this, he adds that he feels inspired by the joy and optimism the students showed throughout the summer internship programme: "I like their can-do attitude. They just do things; building mock-ups, doing research, developing concepts - independent of bureaus or consultants."
Driving the digital agenda in Arla, Kåre Berenthz-Nicolaisen see great outcome in the interns' innovation projects: "They have not just addressed millennials in relation to how we can grow our business in Arla. One of the key learnings I take with me as a project sponsor is also how we can integrate young people in our daily work life. I am really proud that people in Arla take out time to engage with and support these young interns", says Kåre and adds that he would gladly support the summer interns again. Likewise, Marie Kronborg Ellemose, Lead Enterprise Architect, concludes:

It has been such a privilege to work closely with our summer interns! They were all very ambitious, curious and committed to the challenge and the internship at Arla."