Imagine a world where every bite of food offers a delightful chewiness that tantalizes your taste buds, accompanied by a decadently rich caramel-like flavor that envelops your senses in pure bliss. This sensation is the enchanting realm of "Food for the Gods."
More than a mere confection, it's an expedition into the very heart of Filipino culture—a treasured presence at momentous celebrations and cherished family gatherings. If you want to know the secrets of crafting your Food for the Gods cake, this article is just what you need.
Here's the best Food for the Gods recipe to make your loved ones cherish every bite.
What is Food for the Gods?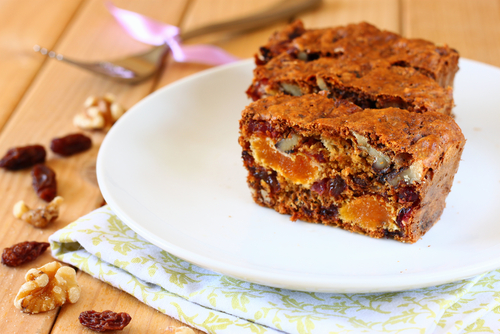 "Food for the Gods" is a cherished Filipino dessert with flavorful ingredients, including dates, walnuts, and sometimes raisins. You can combine these into a batter enriched with butter, sugar, and eggs to create a baked masterpiece that's chewy, dense, and captivating in its unique taste and texture.
Tenderly sweet and chewy, dates conjure a sense of heavenly pleasure, while including walnuts or cashews contributes to a gratifying crunch. With its lavish and velvety taste, the introduction of brown sugar elevates the dessert's essence.
This dessert blends tradition and indulgence, bridging culinary craftsmanship and heritage. Its very name evokes grandeur, suggesting a treat worthy of divine indulgence. Beyond gastronomic appeal, Food for the Gods symbolizes Filipino celebrations, particularly during holidays and family gatherings.
Key ingredients for making Food for the Gods
Now, let's dive into what makes Food for the Gods enchanting. It's not just about mixing; it's about understanding how each ingredient plays its part in creating this heavenly dessert.
Dates are the stars of the show. They bring that incredible chewiness to the table, turning every bite into a thrilling adventure. And that natural sweetness? It's like a sweet, gentle hug that makes the dessert irresistibly charming.
Nuts (e.g., walnuts or cashews)
Here come the nuts—walnuts or cashews, your crunchy companions. They're the dessert world's party crashers, adding that addictive crunch that beautifully contrasts with the dates.
As it melts into the mix, brown sugar transforms the dessert into something that's not just sweet but deeply rich and almost decadent. That extra layer of flavor elevates Food for the Gods to a new level.
Butter is the secret ingredient that adds that touch of luxury to your creation. Imagine a dessert that's chewy, sweet, rich, and moist. Consider using Arla's unsalted butter if you aim for the crème de la crème. Arla's butter enhances the texture and flavor, ensuring that each bite is a masterpiece of indulgence.
Its creamy richness blends harmoniously with the other ingredients, creating a symphony of tastes that linger on your palate. With Arla butter, your Food for the Gods becomes an exquisite delight that captures the essence of the dessert.
It's like a guarantee that your dessert will have that extra dose of goodness, turning every bite into a heavenly experience.
How to Make Chewy Food for the Gods
Experience the classic chewiness that this Food for the Gods treat is known for, a perfect blend of luscious dates, crunchy walnuts, and a symphony of flavors.
Cook: 35 to 45 minutes
Temperature: 320 degrees F (160 degrees C)
Gear: 8" x 8" square pan
Ingredients
Set A:
1¼ cups all-purpose flour

½ tsp baking powder

½ tsp baking soda

½ tsp salt

1½ cups pitted dates, chopped

1 cup walnuts, chopped
Set B:
½ cup Arla unsalted butter, melted

1 cup brown sugar

½ cup Peotraco Glucose Syrup

2 whole eggs

2 tbsps brandy or rum

1 tsp instant coffee powder

1 tsp vanilla extract
Set C:
¼ cup pitted dates, halved

¼ cup walnuts, chopped
Instructions
Sift the

Set A

ingredients into a bowl. Add dates and walnuts, and mix everything.

In a bowl, beat the butter and sugar. Mix until frothy and sugar is dissolved. Add other

Set B

ingredients while beating.

Add the

Set A

mixture and mix until just combined.

Pour the mixture into a greased, parchment-lined square pan. Even out the top with a spatula.

Top with halved dates, chopped walnuts, and bake until the center is moist. To check doneness, insert a toothpick to check if it comes out clean.

Cool completely before removing from the pan and slicing.
Tips for Making the Best Food for the Gods
Ready to take your dessert game to celestial heights? From ingredients to mixing techniques, here are tips for perfecting every bite of your chewy Food for the Gods recipe.
Elevate the flavor and texture with high-quality dried fruits and nuts. You can use pitted and chopped dates, evenly distributing their natural sweetness to ensure a delightful chewiness in every bite.

Masterfully employ mixing techniques to blend your ingredients perfectly. Whether folding or stirring, maintain a gentle and thorough approach to harmonize the flavors.

Keep an eye on the time and temperature so the dessert bakes evenly. Following the recipe's instructions guarantees your creation's perfect balance of chewy tenderness and caramelized richness.

Let your Food for the Gods cool first

before slicing

. When the dessert exits the oven,

it's still cooking

. The residual heat continues to work its magic, solidifying the bonds between ingredients and allowing flavors to meld. This gradual cooling process helps maintain the integrity of the dessert's structure, preventing it from collapsing prematurely and ensuring a satisfying chewiness.

Store your dessert in an airtight container

. This method is one of the best Food for the Gods packaging ideas to keep it fresh. You can also lay parchment paper between the bars to keep them from sticking together.
FAQs about Food for the Gods
1. Does Food for the Gods need refrigeration?
No, this delectable creation doesn't require refrigeration. You can leave the bars out for three days, but if you want to store them, you can stick them in the refrigerator for up to a week. You can also put them in the freezer to keep them for longer.
2. Can I customize the ingredients?
Absolutely! While dates, nuts, and brown sugar form the classic trio, you can experiment with ingredient variations. Swap nuts for your favorites, or play with dried fruits like prunes or raisins for a personalized touch.
3. How do I keep Food for the Gods moist?
To maintain the chewiness and moisture of your bars, store them with a piece of bread. The bread is a natural humidifier, preventing your dessert from drying.
A Divine Treat Awaits
Embracing simplicity, Food for the Gods beckons you to create magic in your kitchen. An approachable yet indulgent recipe awaits your skillful hands, offering chewy textures and caramel-like richness.
If you're ready to turn your kitchen into a haven of culinary magic, remember that Arla's products are here to accompany you on this delicious adventure. Explore our delectable offerings on our Lazada page, and feel free to contact Arla Foods' Contact Us page for more culinary inspiration.