Imagine sinking your teeth into a luscious dessert that combines layers of airy sponge cake with a rich, creamy center layer—heaven.
Beyond being a treat, inipit cake embodies tradition, togetherness, and unadulterated joy. Whether adorning festive tables or enhancing a quiet tea time, its deliciousness knows no bounds.
Now, picture the gratification of preparing your own inipit cake! The utmost quality in dairy products is imperative to honor its essence, which is where Arla Foods excels. Elevate your homemade masterpiece with the wholesome goodness of Arla dairy products, ensuring every layer boasts the rich, creamy taste synonymous with this delectable dessert.
Read on to learn more about this remarkable dessert and our unique take on the classic inipit recipe!
What is Inipit Cake?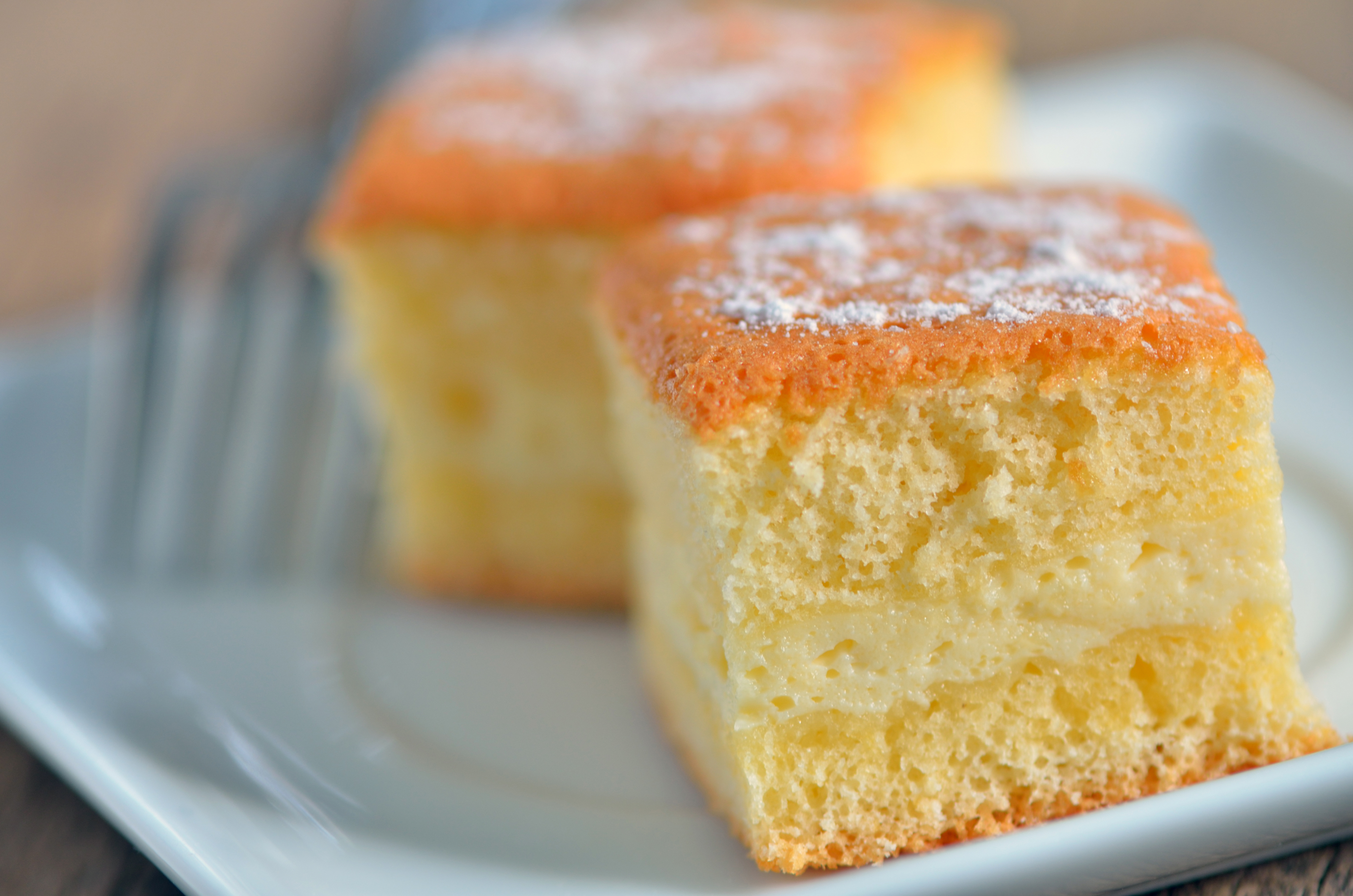 The inipit cake sandwich is a sponge layer that cradles luscious custard or cream cheese fillings. Its allure transcends taste, encompassing a captivating visual appeal. The alternating yellow and white layers entice with charm and flavor.
According to the Celebrate Pulilan website, Salome P. De Ramos, introduced the original inipit recipe swiftly integrating it into Filipino celebrations and everyday life. What was once a well-kept family secret recipe has now evolved over time, and cherished by many. Now integral to Bulacan and Filipino traditions, inipit cake seamlessly intertwines with both. It graces family gatherings and festivities as a versatile centerpiece dessert or comforting snack.
How to Make Inipit Cake
Enjoy the classic taste of this Pinoy-baked Inipit cake made from soft layers of sponge cake and delicious cream cheese filling, creating a delightful treat that captures the essence of Filipino sweetness.
Cook: 40 to 45 minutes
Gear:
9" x 13" x 2" baking sheet

Electric whisk machine
Ingredients
For the Cake Base:
Set A:
1¾ cups cake flour

8 egg yolks

2 tsp baking powder

¼ tsp salt
Set B:
Set C:
8 egg whites

½ tsp cream of tartar

½ cup granulated sugar
For the Cream Cheese Filling:
1 tbsp gelatin powder

4 tbsp hot water

2 cups

Arla Cream Cheese

, at room temperature

½ cup

Arla Unsalted Butter

, at room temperature

¾ cup powdered sugar

½ tsp salt

1 tsp vanilla extract
Instructions
Cake Base:
Sift the

Set A

ingredients into a bowl and mix everything. Make a well in the center.

Add

Set B

ingredients into the well and mix to make a smooth batter. Set aside.

In another bowl, beat the egg whites and cream of tartar. Whisk at medium speed for a minute or two until the mixture turns foamy.

Increase the speed to medium-high, then gradually add sugar, followed by vanilla extract. Whisk until stiff peaks but are not dry.

Fold egg foam into the batter. Mix until just combined.

Pour into a parchment-lined baking sheet. Spread evenly and bake. To check doneness, insert a toothpick in the center and check if it comes out clean.

Cool for 10 minutes, then invert into a cooling rack to cool completely.
Cream Cheese Filling:
Dissolve gelatin in warm water and set aside.

Combine the butter and cream cheese in a mixer until the mixture becomes creamy and the volume increases.

Blend in the gelatin and gradually add the powdered sugar and the remaining ingredients. Mix until light and fluffy.

Set aside in a chiller until ready to use.
Assembling the Inipit Cake:
Place the cakes on a flat surface or in a flat container.

Spread cream cheese filling on top of one of the cakes, then cover with the remaining cake.

Chill for 30 minutes, then cut into small square or rectangular pieces.

Top it off with some powdered sugar or whipped cream. Serve and enjoy!
Essential Tips for Making Inipit Cake
The perfect inipit cake recipe involves a delicate dance of flavors, textures, and techniques. Here are some essential tips to ensure your culinary venture yields a delightful and authentic dish!
Avoid overmixing or undermixing the cream cheese.

Neither lumps nor a runny consistency befits a spongy cake like

inipit

. Optimal results come from gradually beating the cream cheese mixture at medium speed for around two minutes, attaining that ideal thickness and fluffiness.

Add in fresh sliced fruits

like strawberries, cherries, or kiwi

. The added fresh fruit slices on your

inipit

cake are a delicious way to upgrade the dessert. Its fruity flavors blend well with the sweet and tangy taste of the cream cheese filling.

Accent your cake with whipped cream to further elevate the dish

. The airy texture and mild sweetness complement the rich cream cheese filling, creating an exquisite contrast.

Ensure proper cake storage and serving.

Due to the cream cheese filling's

temperature sensitivity

, you should refrigerate for storage and serve while still cool to achieve the perfect serving temperature.
Layers of Love, Flavors of Home
Inipit cake is a cherished Filipino gem that brings layers of filling and sponge cake together in a testament to tradition and flavor. Its versatility makes it an ideal treat for every occasion and every palate.
To truly honor this celebrated recipe's legacy, select inipit ingredients that match its sublime flavors. Choose Arla's fresh and wholesome dairy products to infuse your inipit cake with authenticity and unmatched taste.
Interested in expanding your culinary experience? Explore our expansive recipe collection to further your journey in home cooking. Stay inspired and informed by connecting with us on our Facebook page. And for added convenience, browse our Lazada store to seamlessly access the ingredients you need to create a delectable dish.